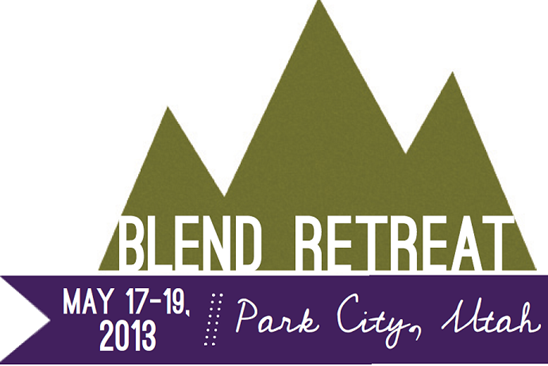 The time has come, friends, for me to tell you more about Blend Retreat! if you are just joining us here on Yes, I want cake, let me tell you a short little story.
Once upon a time, Lindsay started reading my blog. She read it from beginning to end. She decided she loved me. She did the same thing to Janetha and then Lindsay started her OWN blog. Then Lindsay asked Janetha and I if we wanted to organize a retreat for bloggers. We said yes. And Blend (blogger+friend) Retreat was born!
The end.
(See, told you it was short.)
So. We had the first annual retreat in Boulder, Colorado back in may 2012. It was fun. It was delicious. It was amazing. I was so excited to plan the next retreat. And that is just what we have been doing for the past few months. Now, finally, we can tell you all the fabulous details!
Blend Retreat 2013 is going to be held in Park City,UT. I could not be more pumped about it.
Also, this is kind of neat. I'm (hopefully, ninety-nine percent sure) dragging these two little chickens along with me this year. So if you come, you'll meet them too.
Okay, now for the ALL IMPORTANT DETAILS.
Tickets to the Blend Retreat will go on sale on Sunday, January 27th at 8 PM EST. There will only be 125 tickets for sale, so please be sure to be near your computer at that time. (I'll pause while you go set an alarm)
Ticket prices for early-bird registration will be $100. The price will go up on February 17th.
For more details (schedule, lodging situation/prices, WHAT EXACTLY your ticket price buys you, and info about our amazing sponsors) head on over to the BLEND RETREAT WEBSITE.
See you in May. (ps you do NOT have to be a blogger to attend…all readers welcome!)